Main Duck Island, September 2012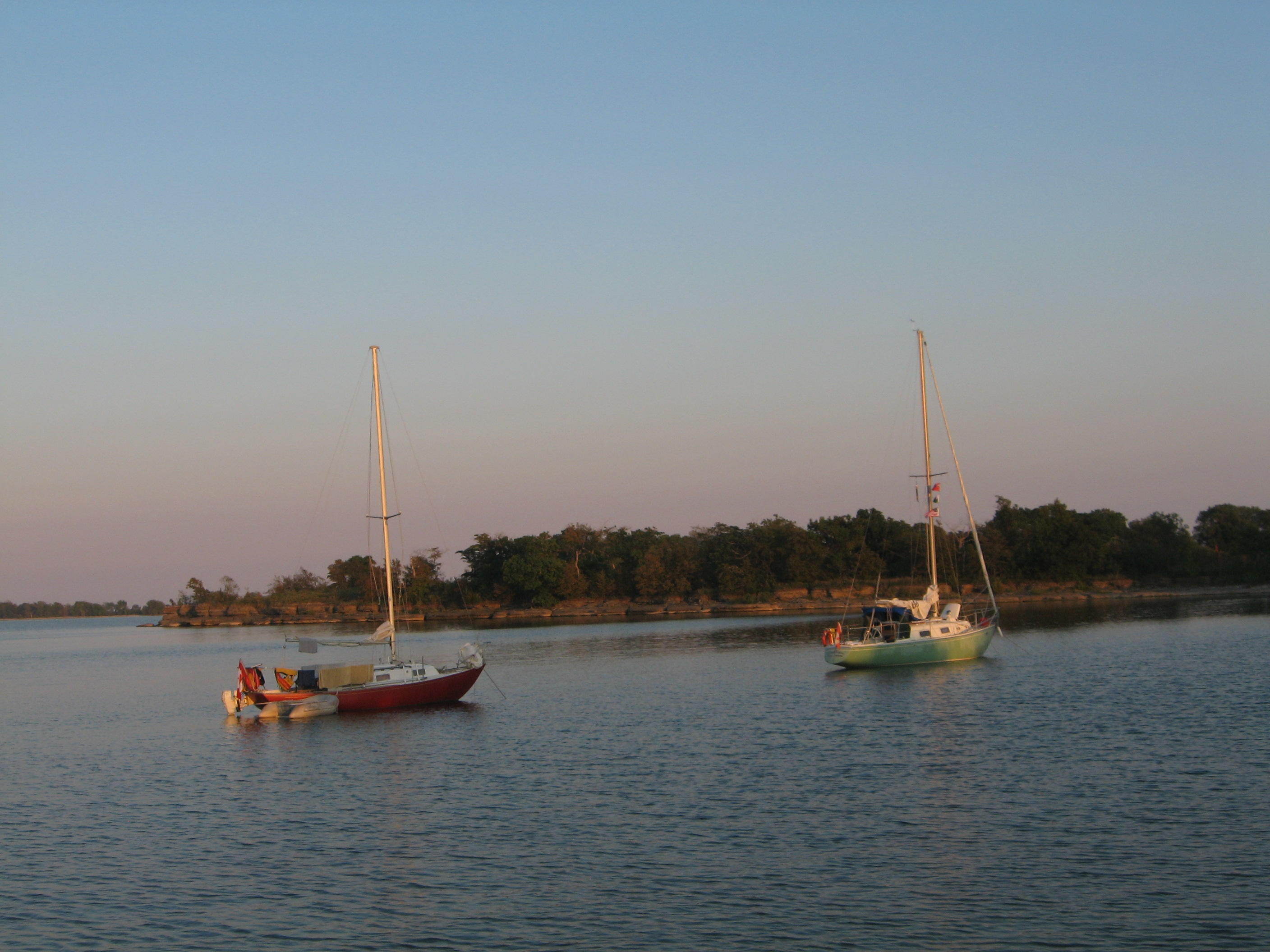 Storm Vogel and Trillium at anchor in center north east side bay
Hello again Bill.
Back again from another ten days aboard Trillium, rattling around eastern Lake Ontario and the upper St. Lawrence River. Had good winds and weather on all sailing days, did not have to contact the Coast Guard at all, and only ran aground once (along with some near misses), survived both monsoon and typhoon, so a great success all in all.
Accompanied in Trillium by son Tim, and in Storm Vogel by the Ambassador again sailing his vintage Alberg 22 built in the seventies in the pre Nye Scott era. Departure Waupoos Marina Prince Edward Bay Wednesday September 5 was delayed by one day by the Ambassador's schedule, fortuitously as it turned out as Tuesday was a continuous 24 hour downpour from the remnants of Hurricane Isaac as it passed over Lake Ontario. Weather Wednesday was perfect, southwest 12 knot wind, and we made a rapid crossing of the fifteen miles to Main Duck Island where we were able to negotiate the range to the protection of the small inner bay there despite water levels being down to year end levels already this year. That rain probably put an extra inch or two into the lake, and had to effect of greening the island up after a number of weeks of drought there. We made our usual walkabout to the lighthouse at the eastern end of the island. Wind turbine development still threatens, but is in abeyance for the present.Would be a shame to ruin the island by turning it into an industrial site as it really is the only wilderness in southern Ontario.
Thursday we left at noon for Kingston, but were only a half hour out when a threatening thunderstorm loomed ahead of us, so the Ambassador wisely gave the order and we returned to Main Duck to let it pass. We anchored for an hour in one of the eastern bays, then the sky having cleared we set off again for another rapid passage of the fifteen miles to Kingston by sailing just west of Pigeon Island and then through the Boat Channel south of Simcoe Island and then across the Kingston channel to Confederation Basin. Wind was at least 10 knots, probably more, with surprising four foot wave development from the long fetch down Lake Ontario, sailing on a broad reach all the way to Nine Mile Point, then wing and wing through the Boat Channel, marvellous sailing, although I find it a little anxiety provoking as at mid point you are out of sight of land except for the cold comfort of Pigeon Island which is just a bald rock covered with guano. The latent power of Lake Ontario with its great weight of water and wind brought to bear on the north eastern section of the lake by the prevailing south west wind is truly awesome and does not fail to impress the sailor with the impression that you are just a light piece of kindling at the mercy of the lake and being granted reprieve to make the crossing. Exhilarating and terrifying at one and the same time.
Spent the night at Confederation Basin, which the Ambassador calls a "hell hole." There is no doubt that the city planners have completely ruined the Kingston waterfront by the construction of five massive high rise condominium buildings there, and these loom over the boating visitor to the harbour who feels like he is a the bottom of a concrete canyon, whilst across the channel on Wolfe Island the many wind turbines grind away remorselessly as they make mince meat of migratory bird and bat populations. Truly pathetic planning.
With the departure of my crew man Friday the Ambassador and I set off again down the river. With little wind forecasted another welcome surprise in the form of a 12 knot south west wind which blew us quickly past the Cold Bath shoal and into the Forty Acre, a marvellous sailing ground south of Howe Island, free of the intimidating swells of Lake Ontario. The wind held up for most of the afternoon, and we only motored the last part of the way, as we initially made a navigation error by sailing into the entrance of the middle channel towards Gananoque, despite charts and GPS (the Thousand Islands are confusing and disorienting for visual navigation) but I neatly remedied this by recognizing the error and leading the way in Trillium to the more southerly channel, blithely (and completely unawares) and successfully sailing across the Forty Acre Shoal, remarkably not running aground in the process! This took us to our destination, Endymion Island, where due to developing weather we would spend two nights.
On arrival there we tied up at the dock, did a little island exploring and natural history, and then spent an uncomfortable night as a thunderstorm went close by. Endymion was a youth in Greek mythology who was granted eternal youth and eternal sleep, but neither seemed to apply to us as I spent the night laying awake and aging rapidly with concern that the boat would start bouncing off the bottom that night or the next day as I only had about three inches of water under the keel at the dock. The forecast for the next day, Saturday, was for gale force winds and heavy rain, a veritable typhoon, and that is indeed what arrived. At first light I consulted the Ambassador, a man of action, and he immediately agreed that we get off the dock right away and out onto the mooring buoys , of which there were six in that bay, while we still had the chance. That is exactly what we did, moving one boat at a time, and a good thing too as weather chaos soon arrived as the advertised low came through, with high winds and rain, and we spent the day swinging wildly around our respective moorings in a 180 degree arc, but perfectly safe and secure. Its amazing how a cup of tea made on my marvellous Origo alcohol stove can sustain and recharge a chap during various challenges of an arduous sailing voyage. Spent the day drinking tea, listening to classical music on WCNY Syracuse (the U.S.A in the form of Grindstone Island is just one hundred meters south of Endymion Island with the border being in the separating channel), and reading the late Sanford Eves very interesting and well written self published account of the history of Simcoe Island where he was born. Additionally during the day I had the opportunity to diagnose the source of a persistent water leak that had long occurred in the cabin of Trillium as water coming over the lip of the companionway hatch from the deck when the hatch is closed, probably easily solved with about fifteen cents worth of weather stripping.
As an aside, this year I flew three pennant flags from the starboard spreader halyard , (there is a cylindrical radar reflector on the port spreader halyard) namely, from the top down, the Canadian Red Ensign, the Welsh flag, and the U.S. flag, and I have decided to do this every year from August 19 to September 11. Here is the explanation. August 19 this year was the 70th anniversary of the WWII Dieppe raid in which so many Canadians were lost or captured; August 20 was the 89th birthday of my old mother, born in North Wales; September 10 was my late father's birthday, enlisted in the British Army from 1938 to 1945 , fought as a Commando and taken prisoner, met my mother in North Wales after the war where he went to trying to recover from it all; and September 11 is of course a painful anniversary for our American friends. I had also planned to get over to Sacket's Harbour this year to get the American perspective on the 1812-14 war as there is a national historic site and museum there, and as I spent the winter reading up the history of same, but the Ambassador's boat is unregistered, so we could not cross the border this time.
Sunday was the antithesis of Saturday, as Endymion was becalmed and sunny on a peaceful Sunday morning. It's interesting to sleep on a boat (if you are lucky enough to be able to sleep). Often there is absolutely no sensation of movement whatsoever on the vessel, even in the St. Lawrence River. Went over by dinghy that morning to visit with a late arrival of the previous day of an interesting and beautiful steel hulled radial chine 35 foot sailboat made by the owner, a millright type, based on a design the name of which I have forgotten, using Core10 steel for the hull (apparently like Chay Blyth's British Steel), and stainless steel for the topsides and cabin. The hull was all sanded down and epoxy coated. The keel was steel encapsulated in compartments into which lead ingots were placed. All done by this owner! Some of these technical types are miracle workers. He was at anchor here, having moved from an anchorage nearby to get out of some of the wind of the previous day.
We motored over to the good looking Gananoque municipal marina in the early afternoon Sunday, beautiful weather, and calm, so no tempation to sail out in the Forty acre. In contrast to last year however ,when the visitor's dock was mostly empty in September, this year it had been populated by a number of huge power vessels which had taken up seasonal residence there, some a tall as they are long, and three deckers at that, docks look like plastic canyons with these behemoths towering over us. Gobsmacking numbers of barrels of oil must by consumed in the construction of these plastic monsters, which the Ambassador tells me are largely made in Asia now, and to compound the obscenity of these exercises in excess, we had to suffer the inconvenience of listening all night to the continuously intermittent discharge of cooling water from ports in the hull of one these as they are plugged into 30 amp service. Owners apparently leave the multiple appliances aboard running continuously all week long, including refrigerators, air conditioning, water heaters, etc, even though they are only there on weekends. And to supply the electricity for all this wicked waste we are told that we have to build forty huge wind turbines on Main Duck Island. It's enough to make a chap mutter.
The Thousand Island channels are well marked by federal buoys, and in addition the Thousand Island Assocition has placed additional buoys to mark off channel rocks for those adventurous enough to explore unmarked routes. We we even emboldened to take a short cut to Gan between Great and Little Huckleberry Islands on the way there, although the sight of a large tour boat doing the same certainly provided encouragement. It was the Ambassador's turn to have a chain plate pull loose this year, the port cap shroud no less. However I had lots of tools and bolts aboard and he was able to effect a sound jury repair in Gananoque which held solid through some very vigourous sailing in the days ahead. (The Ambassador is a Dutch millright type.) (Incidentally I must tell you some time about the successful resolution of a structural problem which I had with Trillium this summer by the simple expedient of placing two half inch bolts in the right location as suggested by another sailing colleague, another Dutch millright type, after my own efforts had failed miserably.)
We met the ladies for supper at Muskie Jake's pub in the Gan Inn that evening, overlooking the great River, then again in the Inn Restaurant the next morning for breakfast, attended again the year by the ever pleasant Erma. The ladies were soon off, and the Ambassador and I explored the Arthur Child Museum on the waterfront, a recently inaugurated and fascinating repository of local natural and social history, not to be missed. Then up to the English Inn for a pub lunch, (draft Guiness on tap) and after getting a few grocery items back to the vessels where we motored off that afternoon to spend the night at another very pleasant anchorage on moorings at Leek (Thwartway) Island with more island exploration done. Incidentally, another innovation on Trillium this year came out of my disappointment last year with the so called ice box, which might better have been called an ice melting unit. During the winter I made up a slab of double thickness styrofoam and sewed a jacket for it out a former canvas boat cover, fitted to exact dimensions of the ice box opening. Now I put two blocks of ice in the section below the wood separators, and put food items in there also, then wedge the insulating slab in over top and it works like a charm, ice lasting about three days and food cooled by direct ice contact. Another innovation this year is a remade lawn chair, covered with, yes, the same remnant boat cover canvas material, which chair I use to sit behind the wheel when motoring for extended periods,also works like a charm, with good view ahead. Also learned to put the navigation chart alongside on the cockpit seats when negotiating the numerous buoys of the Thousand Islands, as its very easy to get disoriented otherwise.
Very delighted with Trillium's performance. The only device that I might like to have is a decent continuous GPS, which the Ambassador has on his vessel. I have a small Magellan hand held, which is remarkable useful, but the bigger unit would be useful when crusing unfamiliar places. He also had a very efficient autohelm, which I think is part of his secret in being able to sail that little vessel in difficult conditions successfully. He says I should have one too, would make single handing so much easier which no doubt it would, but at 2k for wheel steering autohelm it's not going to happen. Still have not adopted your rudder balancing wing, although wheel steering certainly takes the pressure off the helm, but would like to.
But I digress. After a peaceful Monday night at a mooring on Leek Island we set sail, motored literally around the corner onto the Forty Acre and met a good stiff 15 knot southwest breeze and had a glorious afternoon sailing back to Kingston in long tacks, unobstructed by all save the occasional shoal. We had agreed to bypass Confederation Basin on our return in exchange for the much more pleasant environs of Portsmouth Harbour where we had stayed two years ago. The only downside is that Portsmouth is at the business end of the Lower Gap, which is a focal point of hydraulic energy concentration as Lake Ontario waters pile up when a stiff south west breeze has been blowing all day, as it had this day. The water in the Kingston channel gets very rough there, a confused mess, and this is the only part of the trip that I did not like, i.e. preparing the vessel to enter Portsmouth harbour, which means going up on deck to get the main down and get that sail under control with the boat pitching about continuously and on unpredictable angles. In this circumstance sailing must be rather like rodeo bull riding. I use a safety line etc but still it is daunting in those conditions although arrived safely in harbour, the Ambassador following on behind. It was rather cruel to put him through that in his smaller vessel, as we could have short circuited into Confed Basin, but thought I would not hear the last of it if we did.
Another pleasant night there, met some family, supped at the Portsmouth Tavern, and found a friendly security guard who got us into the showers as we had arrived too late to check in. Next morning, fueled up and motored out of harbour, once again into the teeth of the still strong south wester, motor sailed out of the bottom of the Lower Gap to escape its marine chaos as quickly as possible, and then on the calmer waters behind Amherst Island, and enjoyed another excellent day of sailing on a good south west breeze, a clear warm day with a surprising number of cruising boats about, five or six that is, and ended the day anchored in Kerr Bay where we had never been before, on the north side of Amherst Island, a good anchorage, shared with about a dozen other boats on a quiet night.
Next morning, Thursday, managed a slightly clumsy departure, again out to a 12 knot southwesterly, continuing along Adolphus Reach to grapple once again with a marine mess in the form of the Upper Gap, with the same energy focal point phenomenon with big waves, motor sailed through that chaos with the plan in mind of heading back to Main Duck Island once out in the Lake again. However such was the challenge that I determined to abandon that goal and simply make safe harbour at Waupoos, and indicated the same to the Ambassador by VHF. However intrepid as he is he was determined to go to Main Duck again, so once I was out in the Lake I reconsidered matters and finally figured out that sailing on a close reach for 15 miles back to the MD would be reasonably comfortable once the mess of the Upper Gap was behind us and so that is what I did, and met the Ambassador this time in the east bay of the Island three hours later as there were two large trawlers in the inner bay. (My passage was delayed when I decided to hove to and stand down for half an hour while an upbound ocean going vessel made its way past in the shipping lane) We both double anchored in the bay, being protected as the forecast was for a steady south west breeze to be followed by south wind the following morning, to be followed by a cold front and high winds in the afternoon. Our anchors held steady , although the wind there has an odd moaning quality at night and a couple inexplicalble bumps and grinds during the night did make me wonder if we were dragging.
Up early, and we set off at 9:15, the Ambassador going ahead. Here is where I messed up. There is an old wooden boat wreck in one end of the bay where there is also a rock shoal, and as I slowly motored out feeling rather smug about my de anchoring accomplishments I hit the shoal once, then ran up onto the rock after I took a second run at it. I was stuck. Tried to raise the Ambassador on the VHF but he was busy, so left to my own devices after a few minutes I was able to wiggle to boat off with some vigourous application of reverse power and I was free, then out onto the lake to head for home. A glorious sail home, 15 knots south south west, warm, 4-6 foot waves rolling in off the lake, some blue remaining above but a front obviously moving in with a lowering sky developing, full main and 120 working jib, and Trillium skated and slid home at 6 knots in record 2 ½ hours time, finally overtaking the Ambassador at Swetman (False Duck) Island at about the midpoint in the voyage, this was sailing at its best, and in a Hughes 29, unparalleled. Took lots of photos and my video recording technique is improving.
Hope you have had a good season too.
All the best.
Alban
Belleville, September 15, 2012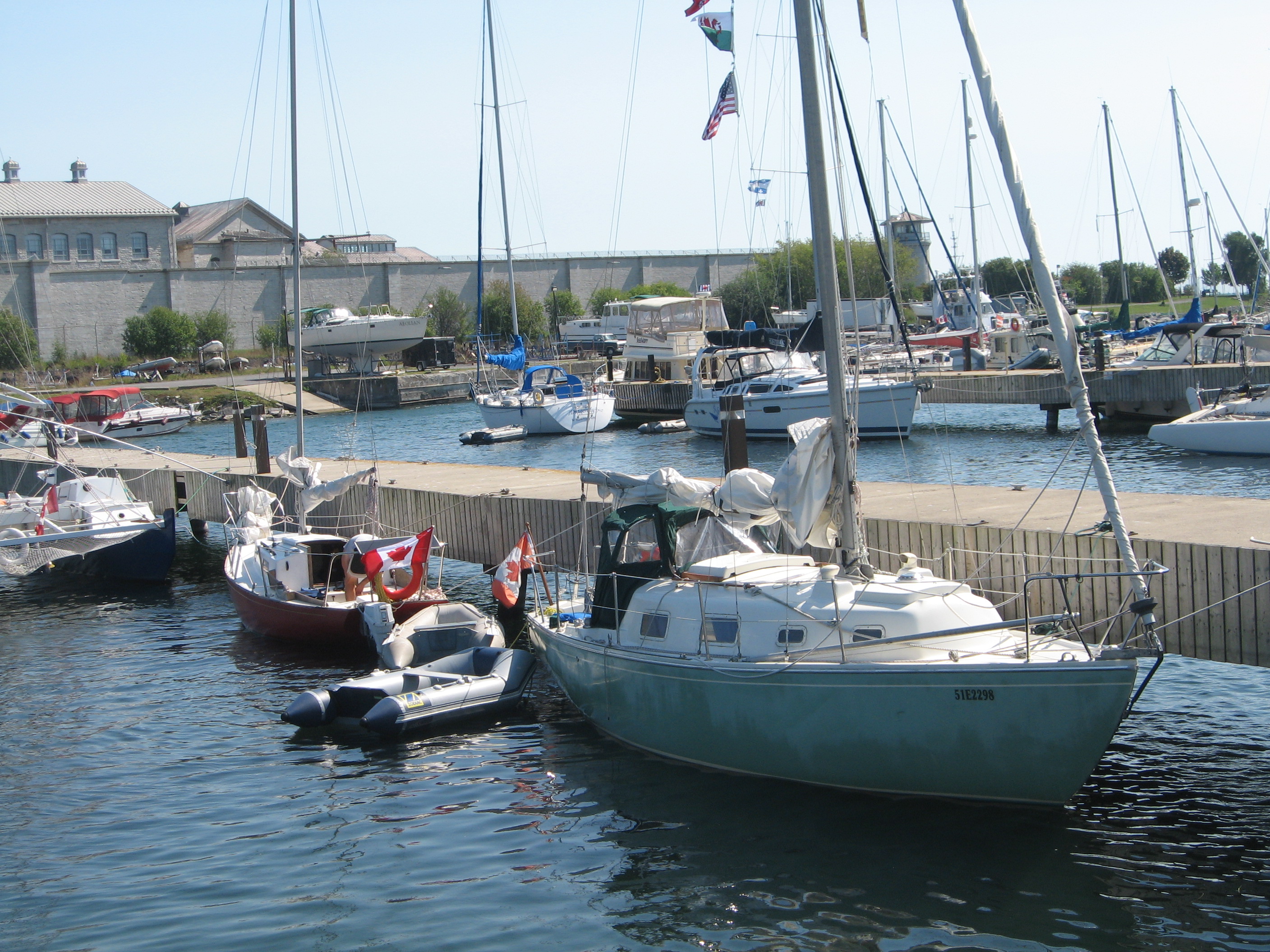 Portsmouth harbour, September 2012
Endymion Island, Thousand Islands, September 2012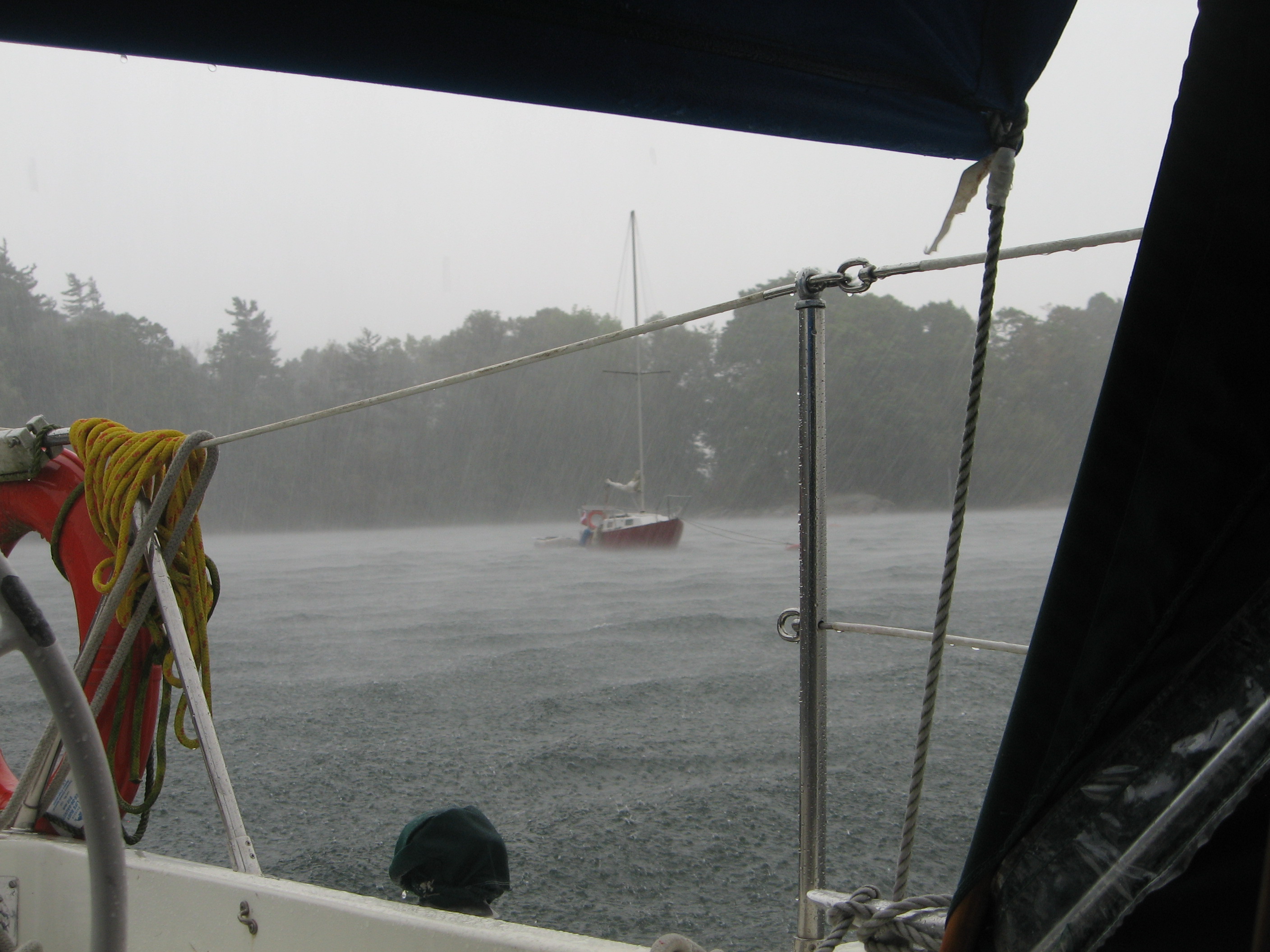 Trillium and Storm Vogel on moorings during gale