Bald Eagle headed to Wolfe Island, Sept 2013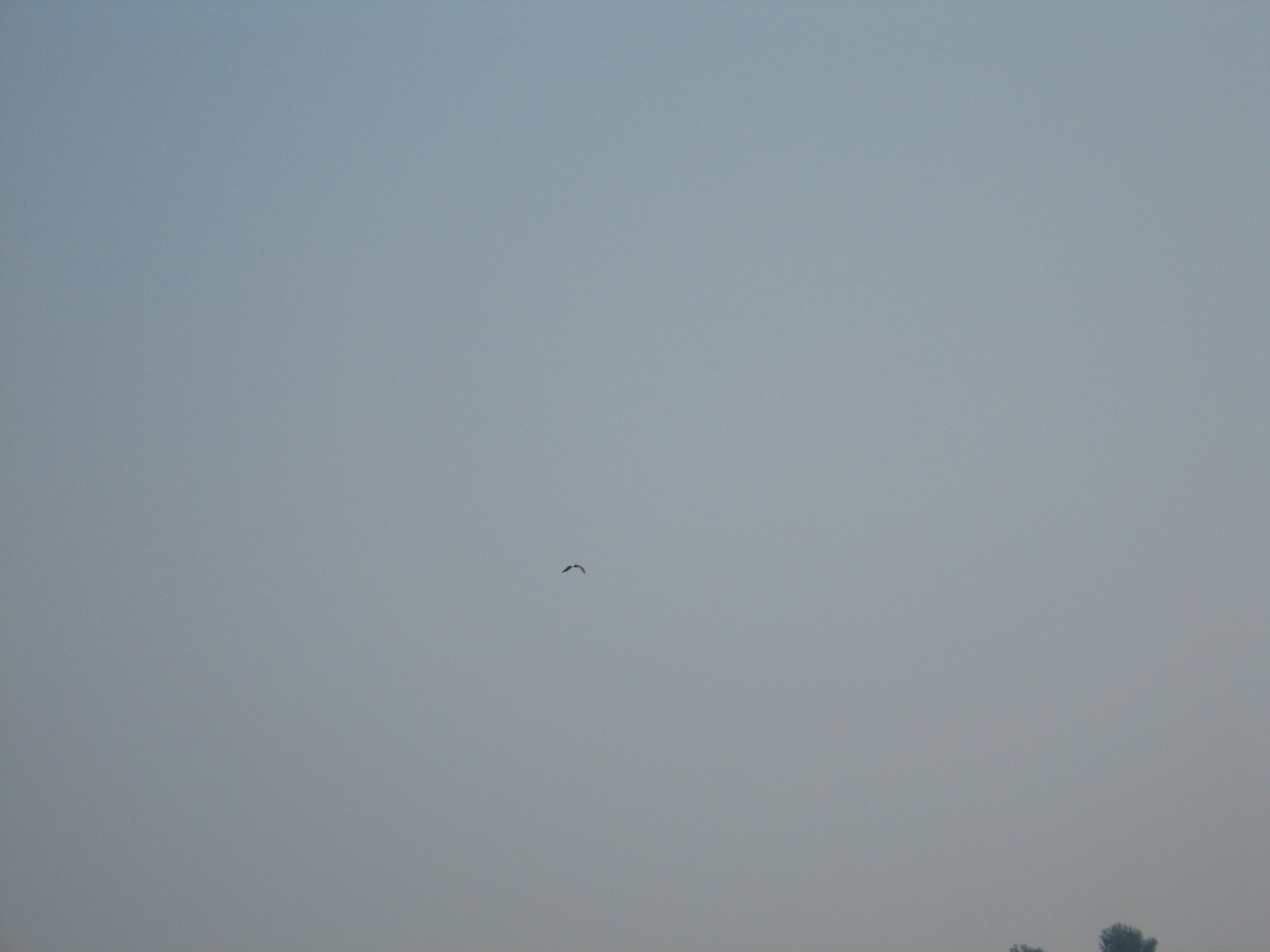 September 12, 2013
Belleville, ON
Surfin' USA: Hanging Ten on a Hughes 29: the Fourth Annual ELO adventures of sailboat Trillium
Dear Bill,
It's 1100 hours, Tuesday September 3, 2013, there is a good wind blowing, and I've spent the past month preparing Trillium for the annual Eastern Lake Ontario/upper St. Lawrence River expedition. The Ambassador, again in his Alberg 22 Storm Vogel which he has likewise been preparing, and a third boat are scheduled to go with us, but the Ambassador is delayed by a day. My patience runs out….there is a strong west wind. I'll make a start and they can catch up. I ready the boat, right down to the last two dock lines, and as I walk down the dock as I make final preparations to leave my eye alights on the port cap shroud chainplate (i.e. not the one we fixed two years ago whilst en voyage) of my amazing 1971 Olin Stephens designed Hughes 29, Trillium. Surely not! Is that chainplate cover lifting up a whisker? Brilliantly, I decide to ignore it…we will find out soon enough once underway, and anyway, lightning does not strike twice in the same place. I go to finish up ashore and I happen to spot the Ambassador, so I walk over to explain the plan and ask him if he would have a look at the boat, which he does an hour later. He confirms that the chain plate is indeed on the move. So Plan A goes down. I secure the vessel for another day and that afternoon together we epoxy the chain plate box using our now patented technique. Only the two, or probably just one, after lower shroud remains to be revised. They all remain rock solid for the duration of the trip. The other mild annoyance is the failure of the electronic engine raw water temp monitor last month, with replacement parts arriving by ship from Vetus, Netherlands via Nova Scotia Stright-Mackay later in the fall. The temporary cure, also brilliant, has been to disconnect the electronic monitor leash. Otherwise the alarm sounds continuously immediately on engine ignition. The alternate temperature monitoring method is a hand on the heat exchanger housing from time to time, rather like a hand on the brow of a fevered patient, and that served rather well.
Wednesday dawns, the Ambassador is now ready, and we make a 1500 start, the chain plate repair having had almost 24 hours to cure and pronounced fit on inspection, and rig retuned. 20 knot breeze forecast from the west, and its almost that now, probably west south west, sunny sky to the south and west, and forecast Cold Front coming through later that night (be very afraid when you hear those words as a sailor) evidenced by a dark sky with obvious rain activity to the north and east of us. We want to get to Main Duck before it arrives, and Trillium with second reefed main and 85% jib skates along for 2/3 the distance there, following the other lads, until the wind shifts to north west, requiring down wind running which causes problems. Additionally as I am now in the upbound sealane after messing about taking the jib off, putting it back on, struggling with a slatting main in a big following sea with the wind now dropped, multiple accidental jibes, so I give up, turn on the motor and get into the inside harbour at MD by 1900, one hour before sunset.
Surprisingly the rains avoided us. Supper for the three of us was a reheated pot of rice cooked up earlier in the day with Waupoos Island honeycomb mixed in, and a cup of tea, very satisfying. Defying convention I added some honeycomb to the tea as well and that worked too, the waxy comb being removed once it and the tea bag had "thickened the tea", as the Irish say. Managed to revise some of our astronomy that evening despite intermittent cloud cover, and more so the next evening which was clear. Had the place to ourselves the first night, and we were then joined the next night by four heavy cruisers and a pleasant lot of lads from Brighton, Presqu'ile Yacht Club, the original home port of Trillium, as they passed through on their way to Waupoos on their own annual expedition. Managed to drop my sunglasses into the harbour but with the help of one of their sharp eyed sailors was able to find and retrieve them with a gaff hook. Lake Ontario water levels are high this year, being about about two feet over chart datum, which is a foot higher than this time last year, a result of the wet spring and summer, so to date we have remained somewhat immune to the declining water levels of the upper lakes.
The Cold Front hit during the night. Awoke to 0300 chaos, high winds coming out of the north. Trillium on this occasion was on the end wing of the new docks, (signed for Commercial Use Only but there did not appear to be much commercial activity on that dock that evening), stern to the north facing entrance to the harbour, so rocked all night despite the protection of the Main Duck harbour as the wind howled to what seemed like gale force gusts. Do not go sailing when a Cold Front is forecast. The same strong north wind continued the following day, which was nonetheless sunny and bright, and the two lads went off for the mandatory island walk. Being a bit knackered myself after yesterday's struggles (I have a talent for making single handed sailing hard work) I laid low. What I had noticed, and as our third party member pointed out, was what was curious about the island this year, said to be a key link in a migratory flyway, was the absence of bird life in this natural wildlife refuge. Eerie. I saw one merlin, one monarch butterfly, and one eagle in our two days there. The place should be hopping. Certainly a reflection of the global crash in bird (and Monarch) species one presumes.
Made the happy discovery that my passport is good until 2014, so determined to get to an unrealized destination to date, Sacket's Harbour, although this meant a departure from the other two boats, the Ambassador having designs on the Thousand Islands Canadian national park. So at 1100 the next day, Friday, we all set off on another beautiful sunny day, the front having passed through, with southwest winds to come later in the day on a cloudless brilliant day. Trillium headed east, the Ambassador headed north to the Boat Channel, for a quick shower in Kingston Confed basin (very accommodating they are there) then off to Leek Island moorings. From there they sailed the area for a couple of days including the Forty Acre south of Howe Island, and were back in Kingston by the following Monday, Stella Bay Tuesday, and home to Waupoos Wednesday.
Our crossing to Sacket's provided marvellous sailing once across the downbound shipping lanes, light winds and open lake were behind us. A good strong southwest wind sprang up with the afforded breakwall protection of Galloo and Stony Islands producing exhilarating sailing in the extreme end of ELO interposed between Henderson and Chaumont and Black River bays. Really did not want to go into Sacket's just yet so took a couple of long tacks in the lake, then, 1700 approaching, and not realizing that Black River bay affords good protection made the tactical error of getting sails off and bumpers and lines on whilst still out in the big swells of the lake, more unnecessary hard work. Motored into the bay, and around Navy Point at Sacket's Harbour, a marvellous natural harbour with a fascinating history of strategic importance in the 1812 War which is now on magnificent display there as a National Historic Site, with all the appurtenances. Choice of berths at the Marina, and the best facilities for overnighting that I have encountered (or perhaps tied for best with Clayton New York as I was to find out later) at about $50 per night at both, compared to $60 at Kingston, so accounting for exchange rates, similar.
Explored the small town after registering with the Border Services by video phone without any problem (the video is for your documents, not you, as far as I could tell). Blue cheese hamburger at the Hops restaurant, with a local beer, Smutty Nosed ale being the choice of the house, both very nice, then walked out to the 1813 battlefield historic site, preserved as a public park, on the point of land across from Horse Island where the British Commander of naval forces James Yeo and Commander in Chief of British forces Georges Prevost landed to stage a moderately successful assault on Sacket's in July 1813 while Admiral Chauncey was away with his fleet at Niagara, both sides later claiming success in that Sacket's engagement.
Berth was quiet and calm that night but didn't get much sleep as was planning an early departure the next day to keep ahead of thunderstorms forecast for the eastern lake to arrive Saturday evening. Left Sacket's at 0745, got out into Black River bay which was quite calm, deceptively so as it turned out. Put out full 120 jib and unreefed main, and sailed back out into ELO, where truth was again revealed in the form of a big swell and strong winds, wind having blown all night at SW 15 knots and continued to do so all that day, Saturday. The atmosphere was very different from our previous day's arrival, now with total cloud cover, rough conditions, and a complete absence of other vessels. However, wanted to keep ahead of that storm, which actually became visible as the morning wore on as a dark cloud out over mid lake. Had considerable difficulty getting down to a second reefed main with the boat pitching about like a mad bull, but got it done and now made my discovery that the Hood continuous line furler functions beautifully as a jib reefing system with the furler line actually locking itself onto the furler drum when the latter twists a little under sheet pressure. I don't know if this is by accident or design but it certainly allowed me to use the jib in a strong wind at ½ or 2/3 deployment very effectively. As you have probably discovered a Hughes 29 will not sail upwind under main alone.
There were three legs in this day's sail, the first to Peninsula Point, which was quite alarming, the second to Grenadier Island during which some hope began to re emerge, and the third to Tibbet Point, which was positively exhilarating. I motor sailed the first leg just to get out of that anxiety zone ASAP. My handheld GPS failed me in this critical leg as I had left it on all night, so keep those charts and field glasses handy, as I had done. Was sailing in rough conditions on a close reach in the first leg on a port tack with motor assist (will mention the significance of the tack later), then turned the motor off for the second leg, now on a less close reach with some easing of boat motion, and then on the third leg on a beam reach, 15 knot sw wind, the 6 foot swell actually deepening as you approach the shallower waters of Tibbet Point lighthouse. This is the moment that you realize once again that a Hughes 29 with its fine overhanging stern slicing through big following waves thus avoiding the broach, and a Vetus 12 hp twin cylinder diesel engine to give you a boost at critical times, is a brilliant combination. What a vessel! We flew to Tibbett's. Catching a breaking wave while standing at the wheel of a Hughes 29 is the Cape Vincent version of hanging ten. Once past the lighthouse there is actually a fourth leg to this trip which is down the great River to Cape Vincent, a short hop but interesting none the less. The big swells were certainly attenuated once in the River portion, although a local chap told me later that given the right wind direction and strength that wave amplitude can actually be larger there than out in the Lake. We are now in the shipping lanes as we approach Cape Vincent, but the anticipated terrors of mingling with freighter traffic were as nothing having survived the Sacket's to Cape Vincent run on this particular day. We arrived at about noon.
Cape Vincent is interesting. The ferry from Wolfe Island runs frequently and there is a Coast Guard station. There is a long cement breakwater which protects the harbor from the considerable wash of the passing freighters (announced as they pass through by a siren, or was that to warn the crossing ferry?), not to mention the waves of a northerly storm as we were to discover. The state Department of Environmental Conservation has a building (and research vessel) there where there is an aquarium with local fish species open to the public, as well as a public dock with bathroom but no shower (found in the aquarium area) available free for tie up by cruising vessels up to 48 hours. There is also another public dock which I believe has facilities. However I settled on the very fine Anchor Marina facilities which have their own very solid cement breakwater and basic facilities available for a very reasonable price, $25 per night with ice, and pleasant staff, Bob from Clayton, and Mr. Smith, a local man. Got tied up behind their solid cement dock for the night, behind a Catalina 38, Lake Effect, captained by R who proved to be not only pleasant but very helpful.
An interesting phenomenon in Cape Vincent that you can't miss if you go is Dan's Place, basically a highly organized junk shop with bits and pieces of all description for sale. Lost the glass dome piece from my old style coffee percolator the day before, turned the boat over and could not find it, so was in despair (morning coffee is only surpassed in pleasure by a cup of tea after a day of hard sailing). Mentioned this to Dan himself and he said bring along the lid, which I did, and didn't he run upstairs to some further storage area and come up with a reasonable facsimile and perfect replacement. Arranged a price for that and a Robertson screwdriver which I had discovered is the only tool that I do not carry on board which I actually needed to date on this trip, all in Canadian funds no less! The original glass percolator dome turned up later in the day, of course, so now am well positioned in the coffee department. Returned the next day to make another purchase from Dan, a four legged wooden stool , which Dan called an "antique", which I find much more comfortable for sitting in the cabin when working at the galley side, rather than sitting at the table (don't have standing head room), or on the collapsable stool that I was using, all for one low price of $20 Canadian! The wicker is coming out of the seat, so will find some nice piece of teak or some such and bolt it on there.
That night was another interesting one. I discovered that the River speaks a language of its own. As I tried to get to sleep I was impeded by the sounds of wavelets slapping off the stern of the hull. I cannot quite describe it but it was distinctly different from the sounds of that sort that I had heard so far. The winds locally were quite calm. I found that against this cacophony I could only get off to sleep with a combination of moldable ear plugs and hearing protector ear muffs. I awoke at about 0300 again however to the sounds of marine chaos. Once again a Cold Front had arrived! When a Cold Front is forecast, be very afraid, and don't go sailing. The wind had shifted into the north or north north east during the night and must have reached twenty knots gusting to thirty. At the Anchor Marina they are just outside of the protection of the eastern end of the municipal breakwater, hence having built there own solid docks with breakwater in the 1970's. Trillium was moored close to the end of that entrance breakwater so was bucking about pretty nicely and getting slapped forcefully in the stern from time to time by waves rounding the end of the jetty. This high wind blew all night and into the afternoon of the next day when it finally calmed down by early evening, so there was no more sleep that night. I was a little concerned about the rudder taking some strain. With the arrival of morning I got up and contemplated trying to move the boat forward one cleat position on the dock, which would take the stern out of harm's way, but soon dismissed that idea given the strength of the wind. That is when the captain of the boat ahead kindly volunteered to help, so that is what we did, and in the end I used six dock lines including doubled up bow and stern lines two with snubbers, and was lucky enough to discover that the bow line had already chafed about one third through during the night and was not long for this world so I got some anti chafing on those lines as well. The Lake Effect captain had a heavy line that he deployed. He had some comical name for it, a tub line or some such. He noted that during the hurricane last year that waves came over that breakwall all day.
That's also when I discovered that my battery was dead. I only carried one battery for starting as well as instruments with no problem in three years until now. I had used the FM radio quite a lot (depend on it in fact, great classical programming from WCNY Syracuse/WXXI Rochester and rarely now from the late lamented CBC), had left a steaming light on overnight unintentionally at Main Duck, and had left the depth sounder on overnight that previous night, so it must all have been too much for the battery, new last year. I have not been in the habit of turning off the main switch when the engine is shut off, but that policy has now changed. The captain was good enough to lend me his 5 amp battery recharger and six hours later the job was done. However I was in despair as I was no longer able to pass the hours in the company of my beloved FM radio, a purpose built boom box made by a local car radio installer which is fixed to the cabin table and which turns the cabin of Trillium, appointed as she is with quite of lot of teak, into a veritable concert hall. Pleasant when in harbour, and reassuring when sailing.
So that is what led to Trillium conversion from a light to a heavy cruiser. I found the perfect place to install a second battery with box in the space under the galley sink, and at the next opportunity which proved to be Clayton NY I purchased a second battery, a so called dual purpose type (they make a lot out of the difference between deep cycle and starting batteries but it seems to me that what is important is the weight of lead therein), and installed it immediately with great success. Ironically the young lad who gave me a ride back to the marina in Clayton from the NAPA store told me that he had to listen to Canadian radio stations there because there was nothing decent locally, while at that very moment I was buying a battery from him to allow me to listen to a very marvellous NY state radio station, there being no decent Canadian radio stations to my liking available! My original battery is charged by a small solar panel as well as by the engine generator. This second battery will be charged by a second small solar panel, 300 mAmp, and by battery charger as needed. Trillium is wired for use of shore power although I only plug into the latter when necessary. Kingston marinas now charge $7 extra for that option, a good idea.
As we could not get out of Cape Vincent that day spent a pleasant day looking around, and fell into a conversation aboard the boat of an 80 year old man, K, aboard his most interesting vessel, his 55th (!!) he claimed, after a lifetime of cruising eastern Lake Ontario in vessels up to 45 feet. As he had aged, and as his spouse, being sensible, is not a sailor, he had gradually downsized. His new boat isa 23 foot Com-pac CP 23 pilot house trailerable sailboat purchased new, to his specifications, of which there were many, from a Florida builder. Not an outside piece of wood was one specification, although the cabin was replete with teak. He also had an interesting main sail stowing system which I did not quite understand. He noted that Lake Ontario is a "very interesting" lake, and confirmed her vagaries noted during a lifetime of cruising the great lake. Once the wind had calmed that day I got out my sailor's palm and sewing box and did a standing repair on the foot of my 120 jib at the clew end where the stitching had come away over an 18 inch length.
Monday dawned, another beautiful sunny day, wind now back into the southwest and piped up to 15 knots as the day progressed, perfect for a trip to Clayton. Cast off at 1100, and motor sailed (K had advised not to hesitate to sail under jib alone when conditions demand, although I still prefer to have at least a second reef main up as well and Trillium seems to prefer this) initially north east for a short distance down river to the turn to the southern route around Carleton Island which allows one to briefly escape the shipping channel which goes to the north side of that island. There are three green cans that mark the route, and also a range finder to Government Point on the island for which I never did see the upper half, presumably for use for landing on the island by the locals. The only disappointing aspect to Carleton Island is its history, which reveals that as the former site of Fort Haldimand, a forward British fort during the Revolutionary war, it was British property until the 1812 engagement, as which time it was commandered by a couple of farmers from northern New York state who took control of the island when the few British guards present on the lightly guarded island and who were probably somewhat the worse for wear were seen off by these New York lads, and the property was never returned to the British. It was the only territory which changed hands when the Treaty of Ghent was signed.
Very pleasant sailing that day, warm and sunny, good breeze. Once around the island and back into the shipping channel area tacked across to Wolfe Island and then on a broad reach in one long tack to Barrett's Point on the American shore, then motored around the point into French Bay which is the natural harbour of Clayton NY. Got fooled into thinking that there was a ship coming through the Quebec Head at the eastern end of Wolfe Island both downbound and again upbound the following day, although it did occur to me that the ship was moving very slowly. It was not until the next day's return journey through that passage that I remembered that the Quebec head is not in the main shipping channel (it's primarily for small boats), and I deduced on up close inspection that what I was seeing was the Quebec Head lighthouse (the apparent stern stack of the phantom ship) and a large house with a widow's walk at the top (the apparent wheelhouse on the bow). On the advice of Bob at Cape Vincent I bypassed the municipal dock at Clayton, a porous wood affair which offers free docking but which does not protect the boater from the wash of passing freighters, finding a berth instead at the Islander Marina (now subsumed by their competitor, the Kellogg's French Bay marina) where again there was lots of space available, the high season having passed. As noted, superior facilities, pleasant staff, good wifi, but no ice! (The neighbouring municipal marina where ice is available was closed.) Settled in for the night, during which a front of thunderstorm activity passed over (keep your eyes covered when on your boat at such a time), resolved then to get a second battery, did so the next day as described, looked through the windows of the famous Clayton classic boat museum, and set sail for Kingston the next day at 1030, the forecast being for more thunderstorms the following day.
Good strong breeze, again south west, tacked across the river to the Quebec head, resolved the phantom ship illusion satisfactorily, motor sailed through the three can passage, then had a glorious sail in 18 knot breeze across the Forty Acre, a marvellous sailing ground, under 2nd reef main and 2/3 of the 120 jib, Trillium a race horse! Hazy, with limited visibility but enough, and from the south point of Howe Island tacked about once to Holiday Point then tacked again, one long tack to the south of the Cold Bath shoal without engine assist, both firsts for us, as setting a visual course for Abraham's Head carries you nicely between Oak Point and the Cold Bath, wind direction being perfect. A Bald Eagle obliged by flying over the channel, distressingly towards the multiples maws of the Wolfe Island wind turbines. I wished the bird well. Got a photo, and did lots of video cam again this year during the trip, sometimes tricky when single handing. Came up to Kingston mainland once past the Spectacles, just short of Cedar Island, and could have tacked out and back again to sail into Kingston harbour but waves from long fetch of upper St. Lawrence now being felt making for the prospect of hard work, and 1700 approaching when was to meet family in Kingston, so downed sails, switched on engine, confirmed that Confed Basin office is open this year to 2000 hours, and motored in, again having choice of berths at this good marina whose aspect is ruined by being at the bottom of the city's waterfront condominium canyon.
Changed foresail that evening to 110 jib, my own construction, then off the next morning and a six hour journey back to Waupoos, departing Kingston at 1000 hours and arriving Waupoos 1830 after a hard day's work in strong west south west winds, with big seas in the eastern approach to the Upper Gap, although had been spared the wrath of the business end of the Lower Gap with that wind direction, as that notorious location was relatively calm as we motor sailed out of Kingston before changing direction to steer north west through the Adophus Reach dogleg past the Brother Islands, followed by marvellous tacking in twenty knot winds with second reef in the main (lost an outhaul hook and line overboard in the confusion of reefing) and 110 working jib in a now south westerly direction along through the 200 feet deep waters of the Adolphus Reach working our way along the protective shoreline of Amherst Island towards the Upper Gap. By coincidence Storm Vogel sailed through the Upper Gap into PE Bay only an hour or two ahead of me on this, the Wednesday following the previous Wednesday of our setting off. The Ambassador then sailed out into PE Bay and home just behind Trillium which motorsailed home into a west south west head wind through and out of the Upper Gap (the raw water intake is on the starboard side of the hull and I'm not sure what angle of heel would cause the impeller pump to start sucking air so I keep the sails near luffing when on the starboard tack while motor sailing). Had made an abortive attempt to sail in PE Bay where I could see Storm Vogel further offshore doggedly tacking away, but Trillium, or at least her Captain, by this time have had enough, a no doubt temporary surfeit of sailing.
Knackered as I staggered into the house after the drive home, inhaled a pizza sub, collapsed into bed, slept like a log, never heard that night's thunderstorm….yet another Cold Front, so was fortunate enough to have stayed ahead of three of these fronts in the last ten days. Be very afraid when you hear those words, and don't go sailing.
Great cruise. Great vessel!
Hope you are getting some time in too.
All the best.
Alban
Hunkered down at Cape Vincent, Sept 2013